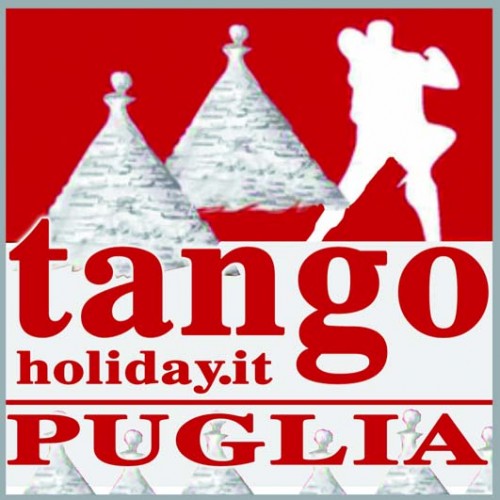 Associazione Tangoholiday Puglia
Forma Legale:
Associazione
Forma Giuridica:
Associazione Sportiva Dilettantistica
Anno fondazione:
2008
Denominazione:
Associazione Tangoholiday Puglia
Tessere accettate:
UISP, ARCI
Tango holidays in the hotel by the sea.
In the magical land of Puglia (Italy).
Beginner / intermediate and advanced lessons.
With Argentinean Leandro Palou and the great Maria Tsiatsiani artistic directors of the prestigious London Academy. See the All Inclusive Package. Booking
www.tangoholiday.it
***********
15th Tangostuni: ''The Tango of Elegance''
whit Leandro Palou & Maria Tsiatsiani
-----------------------------------------------------
26th august - 2th september.
''7 days of tango, 7 nights of milongas''
- in Puglia
- Hotel**** on the sea
- 6 one and a half hour lessons ((for each course level: beginners / intermediate / advanced).
- Milongas aslo in a range of different towns and places(with our BusTango).
- Guided excursion to the Trulli (Alberobelllo - Hermitage Unesco)and old towns Polignano a mare and Locorotondo or Matera and Sassi (Hermitage Unesco) (with our BusTango)
- Tasting of typical Apulian products.
- Entrance to a beach (including umbrella and deck chair)
- Pizzica...live ( Taranta: typical folk dance)
- 7 days half board (including water mineral and wine)
- 7 Tangodj: Paolo Gasparrini, Michele Di Tacchio, Francesco Errico, El Gaucho and other.
- Service partner
Video and complete programm on
www.tangoholiday.it
- on Facebook: Associazione Tangoholiday Puglia, Tangostuni 15° anno and LocoTango Puglia
In the most beautiful area of Puglia and hotels right by the sea (this coast for 5 years is recognized for its purity by the national supervisory bodies) an unmissable occasion for all lovers of tango. Not only for tourists, but also for all those who want to socialize and enjoy a passion for tango dance, set in the most characteristic areas of the local region. In these seven days you can listen to live music of 7 musicalizadores and also enjoy typical apulian dances. The teachers Leandro Palou and Maria Tsiatsiani appreciated for their professionalism and their friendliness and sympathy
Italy, Capitolo (Monopoli) - Contrada Losciale 70/c
Province/County: Bari
Town/City: Locorotondo
Address: Sc 206 Contrada Pozzomasiello
Cellulare: 3483579617