Tango Meeting Caserta
Evento organizzato da:
Trasnochando C'è
Data evento :
Fri 17/05/2019
Ora evento:
12:00
Ora fine evento:
05:00
Tipo evento:
Festival
Localita:
Viale Carlo Iii Di Borbone, , Caserta
Locale:
Grand Hotel Vanvitelli
Web site:
http://www.trasnochandoce.com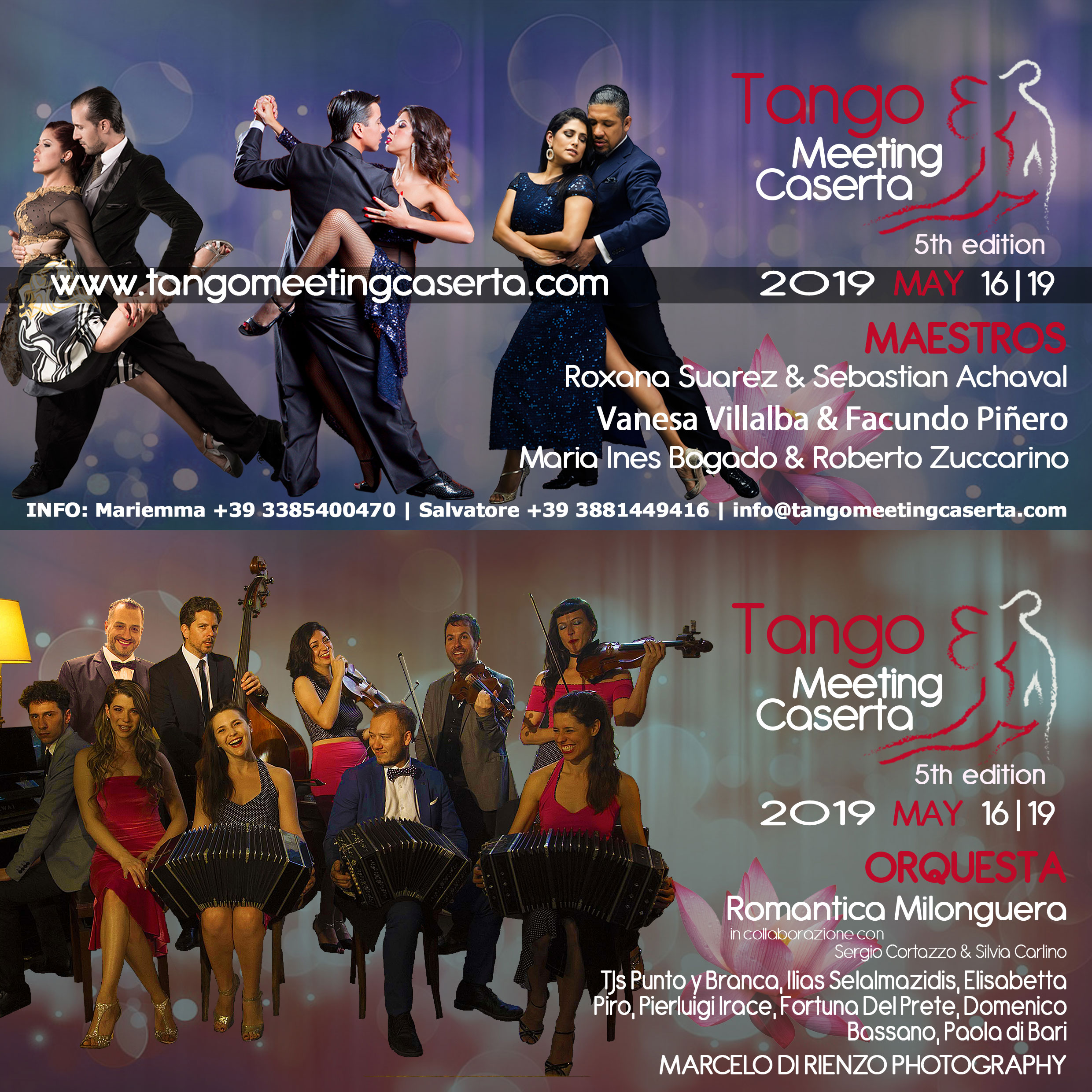 International Tango Festival & Marathon
Tango Meeting Caserta
International tango festival & marathon

May 16/19th | 2019
"

Join us at the fascinating atmosphere of the Campania Felix"
A special event for tango lovers, join us for 4 days of pure tango salon: Classes and special workshops with some of the most famous maestros of Tango in the world. Night Milongas with Live music, International Musicalizadores and Shows. Day milongas with Mozzarella and typical food tasting sourced from exceptional local producers around Caserta. City tours to the most beautiful monuments of the city, Wonderful location.
www.tangomeetingcaserta.com
MAESTROS
Roxana Suarez & Sebastian Achaval
Vanesa Villalba & Facundo Piñero
Maria Inés Bogado & Roberto Zuccarino
ORCHESTRA
Romantica Milonguera Orquesta
TJ TEAM
Punta y Branca, Ilias Selalmazidis, Elisabetta Piro, Pierluigi Irace, Fortuna Del Prete, Domenico Bassan, Paola di Bari tj
ART DIRECTORS
Mariemma Porto e Salvatore Biondi
asd Trasnochandoce Tango Caserta
Wwe are very much looking forward to the festival and to sharing many hours of dancing with you.
Click here for more info