Milonga In Villa - Serra La Fenice
Evento organizzato da:
Protango
Data evento :
Sat 28/01/2023
Ora evento:
21:00
Ora fine evento:
01:00
Tipo evento:
Milonga
Localita:
Corso Felice Cavallotti 116, San Remo , Imperia
Locale:
Villa Nobel
Web site:
http://www.protango.it
Con la partecipazione di:
Raffaele Prota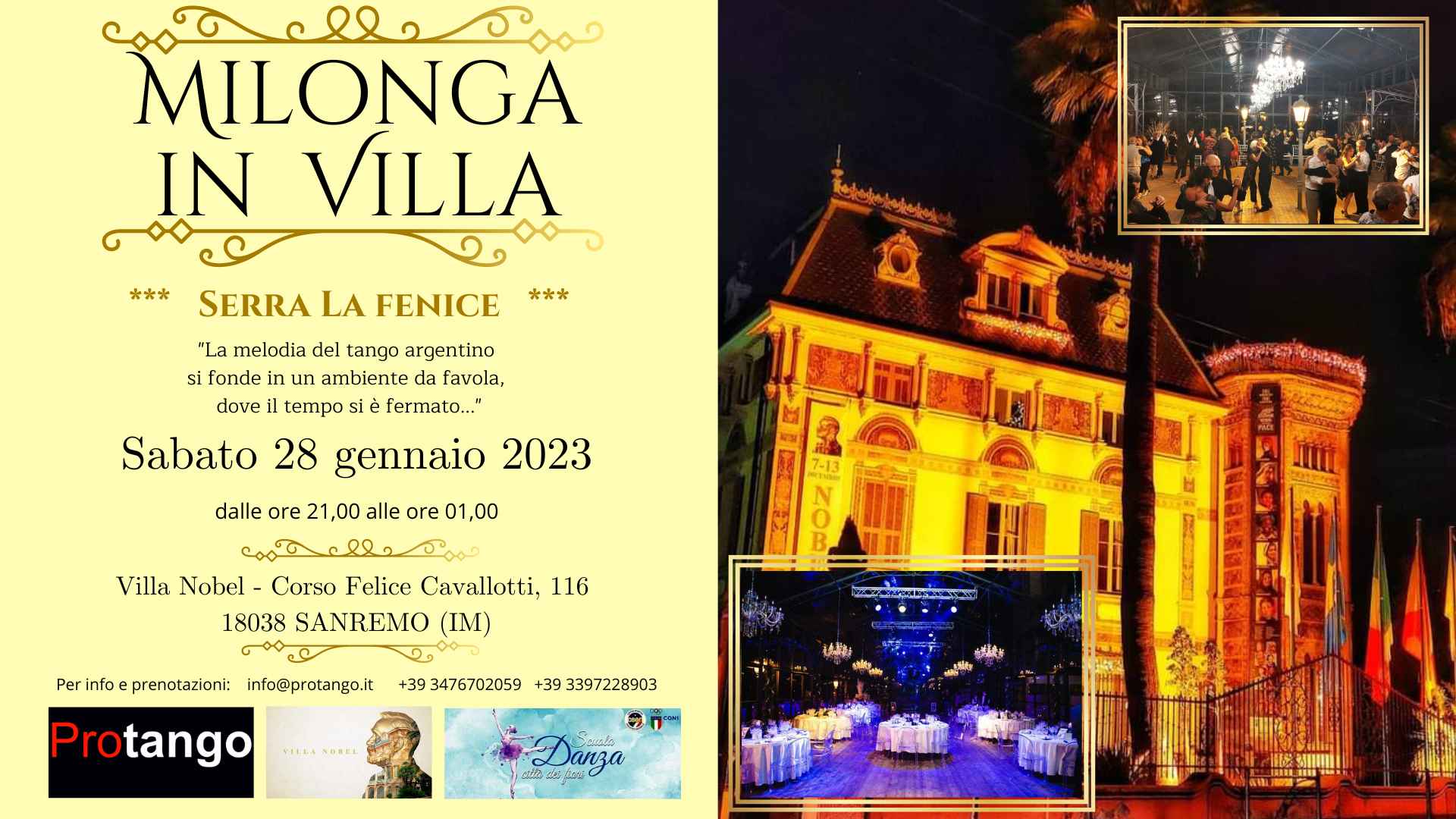 Villa Nobel - Sanremo
Back to Sanremo the tango rioplatense!
We want to offer all lovers of Argentine tango a new meeting point in a very special location: Villa Nobel, where the elegance of the environment will blend with the careful selection of traditional rioplatense music.
We give you an appointment for
SATURDAY 28 January from 21.00 to 1.00 approximately.
** For this 3° appointment we will be welcomed in Serra La Fenice, a structure of 380 square meters lying in the garden in front of the Villa.
Entirely made of glass we will dance surrounded by greenery and under the stars!
With wooden floor, suitably heated and elegantly furnished.**

Participation fee € 15.00 including a non-alcoholic drink. Bar service availablereservations are recommended.

Villa Nobel - Corso Felice Cavallotti, 116 - 18038 Sanremo (IM)

For info and reservations:
info@protango.it,
Raffaele Prota +39 347 6702059, maura Traverso +39 339 7228903

The event was born from the collaboration between Villa Nobel, the Città dei Fiori Dance School and the Protango Cultural Association.
soon the next dates.